Acume's path to becoming a provider of hassle-free eInvoicing
Financial solutions specialist Acume wanted to provide an easy way for businesses of all sizes to benefit from eInvoicing.
On this page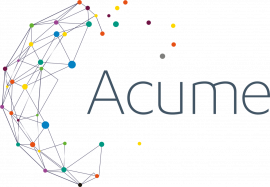 The opportunity
Manual invoicing can be tedious, costly and mistake-prone, and invoices can take ages to be paid. But there's an answer: eInvoicing, currently rolling out across New Zealand, can make invoicing quicker, cheaper and more accurate, and shrink payment times.
Acume, a New Zealand-owned and operated financial solutions provider, has seen customers benefit significantly from digital processing technologies. When the Australian and NZ governments adopted the Pan-European Public Procurement Online (Peppol) procurement document exchange standards in 2019, Acume spotted the opportunity to develop a standards-based electronic invoicing solution that would help businesses of all sizes take advantage of a technology previously available only to large corporates.
The Acume team knew its 17 years of experience in automating financial processes put it in a good position to navigate New Zealand businesses through the adoption of eInvoicing, new territory for most of them. Acume also wanted to address a particular challenge for users of ERP and accounting solutions: Many of those systems will become eInvoicing-capable only with an expensive upgrade.
The solution
Acume's answer, developed over two years in partnership with respected access point provider OZEDI, is a low-cost and scalable eInvoicing middleware solution that contains coding and approval workflows. It offers a simple method of exchanging invoice data that is easily digestible by accounting systems without any upgrade required.
Now in trial with the New Zealand division of one of the top four professional services firms and being onboarded by several other customers, it is recognised by the government's Peppol lead agency, the Ministry of Business, Innovation and Employment. It is a fuss-free way for New Zealand businesses to confidently transition to eInvoicing.
Before eInvoicing
Acume's suite of trusted finance automation tools has served New Zealand and overseas organisations across different sectors.
After eInvoicing
The new eInvoicing solution from Acume is amongst the first to be offered in the New Zealand market.
---
"It's 2022. It's time for all businesses to reap the benefits of standards-based digital business transactions. By tapping the potential of Peppol, Acume's workflow solutions make it possible, here and now."

Shane Wills
CEO Acume
---
Learn more about eInvoicing
Sign up, to stay ahead
If you're a business owner, accountant, business advisor or manager – or you just want to stay in front of the eInvoicing curve – sign up here for email updates, seminar/webinar invitations, and tips to get maximum value from eInvoicing.
Last updated: 07 June 2022