Bookkeeper doesn't miss deciphering invoices
No more headaches chasing up clients about confusing invoices.

That's what bookkeeper and tax agent Stella Vockins most enjoys about using eInvoicing for her Manawatu business Count Me In Ltd.
On this page

Stella, who has more than 40 clients, heard about eInvoicing around two years ago at a conference and registered her own business last year.
She figured that anything that made her own life and work easier had to be good for her clients as well. She does weekly work for some clients and just end-of-year for others, getting intern help in at busy times. eInvoicing has streamlined the whole business.
As there's full and complete information – particularly full details describing the goods or services - from her suppliers' going directly into her system, she says it is easier to code and saves time. Her clients that receive eInvoices from her also get the same benefits. Doing year-end work for her clients will be less work for Stella, as there's no need to chase up clients to understand what the invoices are about like she has for non-eInvoices in the past.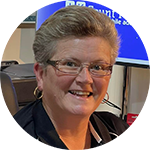 "It is a much smoother process."

Stella Vockins – Count Me In
Benefits for businesses that receive lots of invoices
Stella sees particular benefits for those in the hospitality business and trades such as painter/decorators, who receive a lot of invoices from suppliers. Getting full details about the goods and services straight into their Xero or MYOB system will save them time.
She uses both Xero and MYOB for her clients and has registered for eInvoicing on behalf of some – where she has permissions – giving them one less thing to worry about.
Around 90% of her clients are now registered to receive, and she is now encouraging others to register themselves and get the NZ Business Numbers of trading partners to get ready for wider use of eInvoicing.
Learn more about eInvoicing
Sign up, to stay ahead
If you're a business owner, accountant, business advisor or manager – or you just want to stay in front of the eInvoicing curve – sign up here for email updates, seminar/webinar invitations, and tips to get maximum value from eInvoicing.