eInvoicing a "no-brainer" for sole-trader accountant
Using eInvoicing has been a revelation for sole-trader accountant Mike Higgins in how much time and hassle he can save in his own business and for his clients.
On this page
Mike, who established Minet Brooke Ltd in 2015 and works from home in Auckland, says he is always looking for ways to help his clients reduce admin, so they have more time to focus on generating more revenue. When he heard about eInvoicing, it was a "no-brainer".
Seamless process
His clients are mostly small business with annual revenue ranging from $100,000 to $2 million, generally mum and dad businesses and tradespeople. His core services are compliance and budgeting, but he also provides services such as forecasting.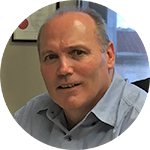 "I knew it would benefit my clients, not just for receiving eInvoices but also sending them. From my point of view, it's seamless."

Mike Higgins – Minet Brook Limited
Simple set-up
Mike says it was surprisingly simple to set up his own business to send and receive eInvoices. Because all his clients use Xero, he asked them to register to receive eInvoices too – something which is "very, very easy" to do. And I was able to set it up on behalf of some of my clients who weren't so confident to do it themselves.
"I thought it would be a big problem, but it only took me 30 seconds."
"I followed Xero's instructions to get set up to send and receive eInvoices and I now send my invoices to my clients as an eInvoice. I know that all the information from my invoice goes straight into their system, making it easier for them."
This cuts down on paper, eliminates time spent on manual data entry and makes it easier for his clients to code the invoice as they have all the information already in their system.
"I've experienced first-hand when they don't enter enough information about an invoice, and I have to chase them to find out what it's for so we can code correctly. If they receive eInvoices this hassle will disappear as all the info about the goods and services is right in front of them in the system. There is no guess work."
Positive feedback
He says the feedback from clients has been very positive.
"My clients are surprised by information ending up in their system. They think it's great."
Mike's next step is to help all his clients get set up to send and receive eInvoices and let their suppliers know they can receive eInvoices.
"I'll be focusing on clients I know have business trading partners. They'll really benefit from eInvoicing, and I have a perfect client lined up."
Learn more about eInvoicing
Sign up, to stay ahead
If you're a business owner, accountant, business advisor or manager – or you just want to stay in front of the eInvoicing curve – sign up here for email updates, seminar/webinar invitations, and tips to get maximum value from eInvoicing.